Dear reader,
New highs month after month... record-breaking winning streaks... bullish sentiment...
You could be forgiven for thinking stock prices can only go one way.
In November 2017, the JSE All Share Index passed 61,298. It has tripled since 2009.

In May 2017, the FTSE passed 7,500. It has doubled since 2009.

In that same period, the value of America's S&P 500 has almost quadrupled.
And almost nine years on, it's showing no sign of slowing down...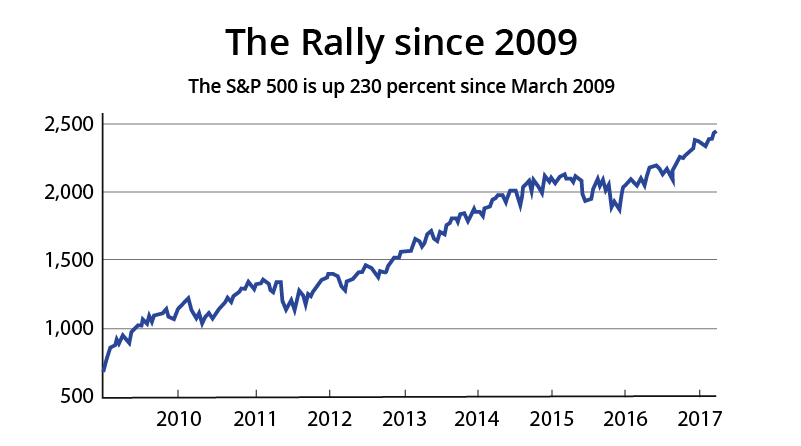 Source: Google Finance
Fear is almost non-existent.
A recent sentiment survey from the University of Michigan showed more than 65% of respondents expect stock prices will be higher in a year's time.
That's higher than the pre-crisis euphoria in 2007 and 2008.
Some call it confidence. I call it amnesia.
If you're thinking "something's not quite right here", then you're not alone. This bull market is not behaving normally. And if you can see the signs, a few of the sharpest financial minds are starting to worry.
The winner of the 2017 Nobel Prize for Economics, Richard Thaler, said to Bloomberg TV in October [emphasis mine]:
"I don't know about you, but I'm nervous, and it seems like when investors are nervous, they're prone to being spooked. Nothing seems to spook the market. We seem to be living in the riskiest moment of our lives, and yet the stock market seems to be napping. I admit to not understanding it."
Mark Connors, Credit Suisse's global Head of Risk Advisory had this to say on North Korea's provocative missile tests in September:
"Two rockets flew over the land mass of Japan and nothing happened. There were no calls. That's absolutely crazy."
You'd expect the threat of nuclear war to move the needle. It hasn't. Nothing seems to.
Record-breaking trends have become normal:
The S&P has just seen 33 consecutive sessions without a 0.5% daily decline – the longest streak since 1995.
So far in 2017, the S&P has closed lower by 1% or more just four times — the fewest for a full year since 1964.
2017 is the first year in which the Dow has had two winning streaks of 10 sessions or longer since 1959.
These are extraordinary times. It's like people don't actually believe stocks can go down.
But as my colleague Bill Bonner wrote on 14th June,
"Nothing shocks this market. Nothing rocks it. Nothing socks it to it.
"Nothing does… that is, until something does."
Bill's right.
In fact, my analysis tells me stock markets across the developed world may be due an imminent downturn.
Within the portfolio that I run for thousands of SA investors, we have very little exposure to either the US or the UK stock market. So my message is clear:
You may want to think about reducing your exposure to Western stock markets NOW.
Before the coming correction.
Before billions are wiped off the indices.
Before you become one of the thousands of investors in South Africa wondering: what the hell happened to all my money?!
Let me show you what's going on…
A critical market indicator has just turned

RED
It's now at a point it's only been at twice before in history.
The first time was the Great Crash of 1929, when the DOW Jones Index saw almost 90% of its value wiped away.
The second was the Dotcom Crash in 2000, when The Nasdaq Composite lost 78% of its value between 2000 and 2002.

I'll reveal exactly which indicator I'm talking about shortly.
The most important thing to know is this: this indicator is sounding a red alert...
Listen to it.
The "Bull Trap" could cost you HALF your invested wealth
Bull markets spend years developing, gradually moving upwards as the economy expands.
Falling markets are a different matter.
As investors realise that stocks are coming down, they panic... leading to a mass rush for the exit that can destroy years of growth in hours.
On 19th October 1987 – a day known as "Black Monday" – the Dow Jones fell 22.61%.
The Nasdaq lost 9.67% on 14th April 2000 when the dotcom bubble popped.
Stock market sell-offs are brutal affairs. Investors try to salvage as much of their money as possible. It doesn't matter if a company's stock is good or bad – in a crash, it's getting sold.
If you're approaching retirement... investing to buy a new house... or simply to leave a decent legacy to your family...
All those plans could be set back years – possibly even decades – by the next stock market crash.
The only way to guarantee not losing your money is to be out by the time it starts.
From where I'm standing, that means now.
The end of bull markets are characterised by greed and stupidity.
I'm seeing both in abundance at the moment.
Whether it's investors pumping money into exchange traded funds (ETFs) simply because the market's going up...
Or buying stocks in tech companies where you'll have to wait 450 YEARS to make your money back...
Or the record levels of money investors have borrowed to buy stocks – which they'll somehow have to pay back in the event of a downturn...
All the signs suggest it won't be long until this bull market runs its course.
In the next five minutes I'll show you why I think the next market reversal could happen at any moment – and why when it does, the losses will be devastating.
I'm also going to show you exactly what I believe you need to buy to protect your money and keep it growing come what may.
I'm in a position to help you...
My name is Joshua Benton.

I've been actively involved in financial markets for half a decade.

Being a lone voice doesn't concern me. In financial markets it pays to think independently.

I'm an Investment Analyst for South Africa's largest wealth building and investment publishing company – I help over 30,000 investors make the most profitable investment decisions.

Through my work, I've built exclusive relationships with massively influential figures such as well-known economist, Chris Hart, and international financial publisher, and best-selling author, William Bonner.

These high-level connections allow me to give my readers 'insider' investment insights unavailable anywhere else.

The point is, just because you're not hearing about something, doesn't mean it isn't happening.
You don't have to agree with me. All I ask is that you hear me out. I'll give you the facts as they currently stand – then you can come to your own decision.
But know this: I wouldn't have written this letter if I felt the evidence was "inconclusive".
And one indicator more than any other tells me the situation is now critical...
CRASH INDICATOR #1
The Third Crossing
There's one measurement I prize above all others in assessing the stock market...
And right now it's flashing red.
The CAPE ratio shows you how over- or undervalued a stock is – by dividing the share price by the earnings per share (averaged out over 10 years).
The chart below shows the CAPE ratio for the whole S&P 500 stock index over the past century.
Now, the CAPE average for this period is 16.8 (i.e. you would make your money back in 16.8 years)...
As you can see, it now stands at OVER 30.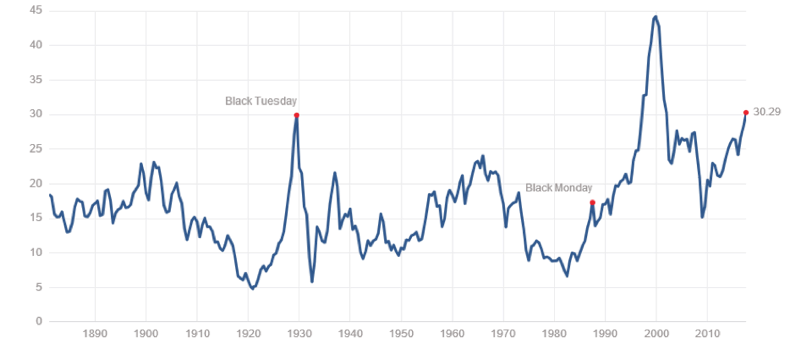 Source: Multipl.com
As I said earlier, this is only the third time in history that this mark has been crossed.
The first time was the Wall Street Crash of 1929...
The second was the dotcom bubble in 2000.
Both events had devastating impact on investors.
At some point, the market will revert to its average figure, of 16.8 – and presumably below it.
By this measure, the US stock market is now roughly 80% overvalued.
And that's just if it falls back to its average, remember – it could obviously drop well below that figure in a crash.
That's more than just a red flag, as far as I'm concerned. It's telling me the bull market is primed to pop. And when it goes BANG, your money should already be well clear.
Robert Schiller, the economist who came up with the CAPE ratio, wrote on 21st September, "the US stock market today looks a lot like it did at the peaks before most of the country's 13 previous bear markets."
In case you're wondering why you should care what happens in the US stock market…
The US accounts for approximately 60% of the world MSCI Index. So wherever stocks in the US go, Europe and the rest of the world follows.

The Great Crash of 1929 laid waste to US stocks.
So the fact that US stocks are valued higher than they were in 1929 – and second only to the dotcom crash in 2001 – is reason alone to get your money out of the western stock markets immediately, to my mind.
But the CAPE ratio is not the only indicator suggesting this bull market is racing towards its end...
CRASH INDICATOR #2
The "FAANGs" are distorting the market
Just because "the stock market" is going up, that doesn't mean every company is.
The market is being held up by a handful of tech stocks –those known colloquially as the "FAANGs" (Facebook, Apple, Amazon, Netflix and Google).
The size of these companies means that they have a disproportionate effect on the wider market.
Many now trade at astonishingly high valuations.
Amazon's price-to-earnings ratio today – is 326.87.

Netflix's p/e ratio today is over 220.

"Dotcom bubble 2.0"?
You bet it is.
You would have to be insane, in my opinion, to have any money in these companies. And that's just what we are seeing, investing insanity as the market piles into companies offering no value whatsoever.
As I said, tech companies are the biggest in the stock market – and have enjoyed huge gains since 2009.
But other sectors have not been so lucky. The chart below shows how the FAANGS managed to keep the S&P 500 stable between March and May on their own.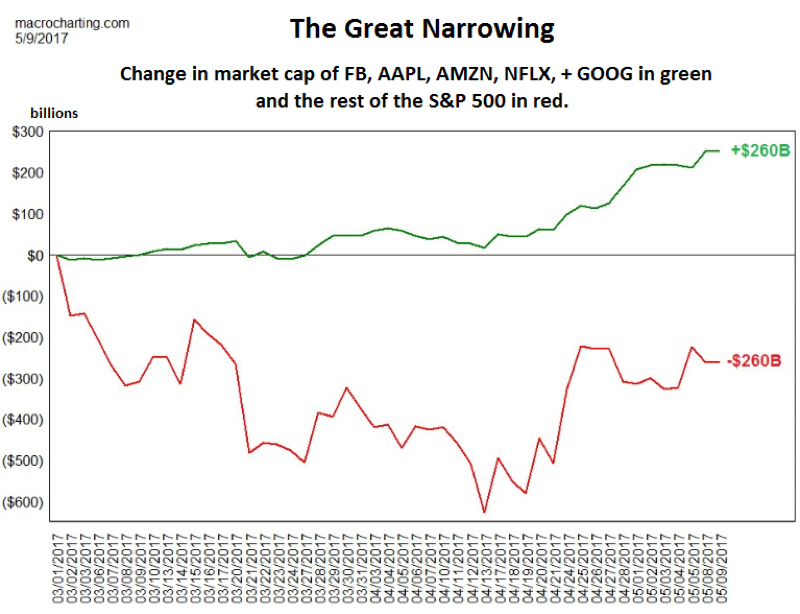 Source: John Alexander/macrocharting.com
The rest of the market – 495 companies! – dropped 260 billion in those two months, which the FAANGs matched in gains.
Low market breadth does not guarantee a crash. But it has historically been strongly correlated to reversals.
If more and more companies are sinking in price, the market is depending on fewer companies to keep it growing.
That worries me. If their fortunes turn, the rest of the market does not look capable of taking up the slack... and a falling stock market would accelerate quickly.
CRASH INDICATOR #3
"The blind leading the blind"
Why would you buy a stock?
One: Because you think it's a good company...
Two: Because the price is going up?
For an increasing portion of the market, the answer is number two... and it's going to end badly.
Allow me to explain.
An Exchange Traded Fund (ETF) is a way of investing in a whole market – regardless of whether the companies in the index are good or bad.
ETFs ('passive' investing) have SOARED in this bull market – as the following chart shows.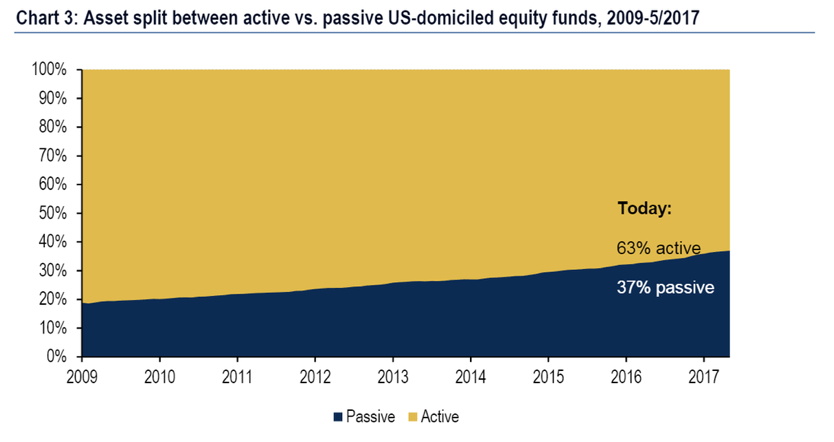 Source: Bank of America Merrill Lynch
As you can see, in 2009, less than 20% of the stock market was owned by ETF investors...Today it's almost 40%.
Buyers beget buyers... driving prices higher and higher...
Until they run out.
Right now, the rising stock market is a case of the blind leading the blind.
I promise you it won't end well.
I'm offering you an escape route
Stock market crashes can cost people dearly.
Years of hard work and saving goes up in smoke.
In 2008, almost every South African household lost money.
Could your family overcome a loss that large today?
It's not just money that's involved, either. Jobs go too... people lose their homes... the emotional costs can be devastating.
That's not a chance you have to take.
Today I'm going to show you how I believe you can give your wealth the best chance of overcoming the evident problems in the stock market.
My name is Joshua Benton, as I said.


You may have come across my writing in MoneyMorning or The South African Investor.

It's my job to grow my subscriber's wealth through all market conditions – I've got the track-record to prove it.

I managed to outperform the JSE All-Share and every fund manager by more than double over the past seven years.

This is something I know for a fact is incredibly valuable for the handful of private investors who follow it. Johnny Snyman, for instance, wrote in to tell me:

"Firstly, you do all the research on a company and also indicate at what level a person should buy the recommended stock. This already makes it very easy to select and buy a stock, with a high probability that it would go up in price. This alone helps me tremendously to select and buy stocks.

Secondly, I noted over the years that your combined stock selections constantly outperformed the JSE substantially. This gives me the confidence to buy the stocks that you recommend.

Apart from the above, you also inform us when to sell a stock, notwithstanding the fact that you constantly update us on the performance of the companies that we invested into through stocks. This all makes it very easy to be successful in the long run, i.e. it is like spoon feeding. What more can you ask for?

I am one of those persons who kept on reading your advice for many years without investing at first. This gave me time to look at your track record over time without committing money. Not that I wanted to, but going through a financially draining divorce I did not have the cash to start off with at that time, but always knew that when the time was right that I would do so. With the opening of Easy Equities last year, the time came, so to speak. Thank you for informing and advising us on this opportunity as well. When I read about this new stock broker through your mail, I did not hesitate to open an account with Easy Equities and immediately started to buy your recommendations every month. Thus far, my overall portfolio is in the positive, after only a few months of trading!

And Shaheema Warner wrote in to say…

"I find Real Wealth an educational and informative read. Your advice in what stocks to buy and what to lose is almost always right. I have bought stocks that you advised, and it did very well. Your advice is clear, concise and easy to read and follow for any layman."

Anyway, right now there ARE markets that are not dangerously overvalued... which aren't being propped up by a handful of high fliers... which aren't being pumped up by naïve investors...

They just aren't in the usual places.

Most investors won't even consider them.

But I'm happy to disclose that information here. I would never tell you to invest in anything I wouldn't myself.

Today I'm offering you the chance to follow suit.

URGENT RESEARCH REPORT #1
My latest report, details exactly how I think you should set your wealth up to survive – and prosper – regardless of the precarious situation in stock markets here and in the US.
It tells you exactly which investments to buy... and what percentage of your money to allocate to each one.
I would usually charge thousands of rands for this kind of information.
But today, I'm offering a way you can get a copy of this report for FREE.
But let me first re-emphasise: what's important is that you get this up and running immediately.
Because it doesn't matter if you act a month or a minute before the market reverses.
You do not want to be scrambling around trying to salvage your hard-earned cash when everyone else is selling. You'll almost certainly lose money.
So the sooner you act, the better – it really is that simple.
Before I show you how to get your copy of my 'fail-safe Plan' report, there's another reason why I believe now is the time for you to take evasive action with your money.
CRASH INDICATOR #4
This indicator is at a record level...
Would you borrow money to buy stocks?
Me neither...
But that's what an ever-increasing part of the market is doing.
Great news if stocks go up...
A potential disaster if they go down.
Because that R50,000 you borrowed to invest is now worth considerably less...
This is known as 'margin debt'.
And in July this year, margin debt hit a record $549.86 billion.
This accounts for 2.86% of US GDP.
As Howard Ma, the Chief Investment Officer at Meritocracy Capital Partners, said recently, the 2% threshold is when "bubbles became evident despite widespread denial".
Margin debt has now been above 2% for the last 56 months, as the following chart shows...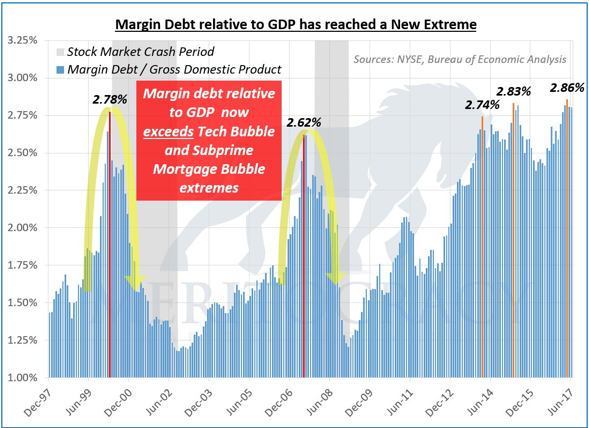 Source: Market Watch
As you can see, the percentage of margin debt in the market is now higher than it was in the dotcom crisis and the global financial crisis.
Additionally, hedge-fund borrowing recently hit its highest level since the financial crisis.
It's another signal that fear has turned to greed. People are borrowing ever bigger quantities to get a bigger slice of the action.
Does this mean a crash is certain? No.
But what we do know is that when the margin debt level has been at this level before, that's been the end result.
Here's Howard Ma's conclusion [emphasis mine]:
"It is crystal-clear to me the stock market is in another financially leveraged bubble," he wrote. "This one is unprecedented. It has extreme depth (2.86% of GDP) and immense breadth (56 consecutive months). If financial leverage [margin debt] is indeed the correct way of gauging the potential harm from the prospective aftermath…thenthis bubble could prove to be the biggest one ever."
In my opinion, he's bang on.
Having seen it laid out for you today, you now know what is really going on. But that's not enough on its own. Information is pointless if you don't have the ideas and direction you need to act on it.
So I'm talking to you as an investor... as someone who now understands the severity of the situation we're in... as someone who wants to take your and your family's safety into your own hands.
If that isn't you... stop reading here.
If that IS you, here's how you can get your hands on my report.
Your access to The fail-safe Portfolio
Right now you have every right to wonder: if the stock market is so vulnerable right now — why haven't I read about this elsewhere? Why is no-one sounding a warning?
Well — did anyone warn you before Lehman Bros collapsed? Or before the US property market imploded? Or before the eurozone spiralled into chaos?
People never get warned. Or, they don't listen when they are.
We are living in an era where people appear convinced the market can only go one way. No one is seriously talking about a crash.
At some point the buyers will run out.
According to my analysis, that will happen sooner rather than later.
From low market breadth... to the unthinking ETF buyers... to the absurd valuations on the CAPE ratio...
The signs all point to a BANG.
It's my job to spot these things and help people prepare for them.
Over my career, I have shown my investors that — whatever is happening in the markets — there are assets and investments that can prosper.
And I want to help you do that, too.
The fail-safe Portfolio is a complete investing strategy, currently comprised of 10 investments.
The current weightings are:
BONDS – 10%
BENEFIT: Capital protection AND income in the event of a period of deflation
STOCKS – 45%
BENEFIT: High quality companies trading on extremely inexpensive valuations
REAL ASSETS – 25%
BENEFIT: Protection for your wealth against central bank money printing and inflation.
SPECIALISED INVESTMENT PRODUCTS – 20%
BENEFIT: Fully diversified funds or structured products aiming to keep your wealth increasing regardless of how the wider economy and markets are doing.
It is low-maintenance, designed to give you peace of mind above all.
You will know you have done everything required to protect your growth from perhaps dangerously overvalued markets.
You'll find everything you need to know in the report.
As with all investing your capital will be at risk. The Fail-Safe portfolio is designed to protect your wealth, but nothing is guaranteed. So you should only invest with money you can safely afford to lose.
With funds the performance relies on the underlying investments. Rising interest rates will be trouble for bonds.
Some shares may be listed in a currency other than sterling, which means the return could be negatively affected by currency movements.
I'm sorry if I'm preaching to the converted here, but I want you to go into this with full confidence. You need to understand that no investment is risk-free.
I'd like to send you a copy of the report today – free of charge.
But that's just the start of what I can offer you. There's no point simply setting up a portfolio and then leaving it alone. The best opportunity to grow your money now may not be the so in 12 months' time.
Managing your money is a never-ending process. When the situation changes... you'll need to make changes to the portfolio... or adjust its exposure to certain asset classes.
That's why I created...
Real Wealth
Think of the Real Wealth as your personal financial intelligence service.
It's my way of sharing analysis for what is going on in the financial system with investors like you...
And showing you precisely how to keep your money safe and growing at all times.
The fail-safe Portfolio is the cornerstone of that.
It is designed to help you to sleep easy, knowing you've done everything in your power to protect you and your family's future.
That is my job in Real Wealth.
As an investment analyst, I only usually share my core insights amongst a small group of people.
So, it's unlikely we'd ever cross paths.
But this is an extraordinary time to be investing.
Central banks are meddling in markets to an unprecedented degree. No one knows how it'll end – but my prediction is that a lot of people are going to take a hammering.
Frankly, I don't think that's fair. And I don't want to see that happen.
I'd like to send you Real Wealth to help you keep your wealth moving in the right direction.
You'll have access to a level of true investment intelligence only a handful of people will ever experience.
But the first step is to grasp what is happening around you. Because I think only those who understand the precarious state of the stock market – and most importantly the corrupted nature of our financial system... are going to make it out intact.
Be one of them.
In Real Wealth you'll be one of the few people in South Africa who know what's actually going on with your money.
I'm in an incredibly fortunate position to assist you. Not only do I operate in the heart of Johannesburg — the epicentre South Africa's financial system......
I'm also part of a global investment research network with offices in the USA, UK, Paris, Melbourne, Buenos Aires, Sao Paulo, Mumbai and Beijing. People with decades of experience who believe in self-reliance, fair markets, sound money and personal liberty being preserved.
This gives us the perspective, the contacts, and the tools, to help you succeed. You'll get the benefit of this global reach. I will share their insights with you.
Right now, you have some big calls to make
Equity markets are high-risk markets.
If you have money in it currently... are you willing to leave it there?
If you were thinking of putting money into it... are you still confident that's a wise thing to do?
My advice?
Get the fail-safe Portfolio set up today.
All you need to do to set it up today is take out a trial to Real Wealth. I'll send you a copy of my report, detailing the portfolio in full, immediately.
Then, you'll have 30 days to decide whether my ongoing guidance in Real Wealth is for you.
If you decide it isn't, you can cancel at any point in the first 30 days and receive a full refund – no questions asked.
(You'll be able to keep your report on The fail-safe Portfolio if you decide to cancel your subscription.)
Before I show you how to get started, there's another feature of this bull market that you need to be aware of.
It's always been a strong sign of investor complacency – and has just reached a record low...
CRASH INDICATOR #5
What the 'fear index' is telling us
Low volatility has historically been a sign of investor complacency.
And right now, it's LOW...
The chart below shows where we are now.
You can see that low volatility – marked in black – has always foreshadowed a stock market sell-off (in red).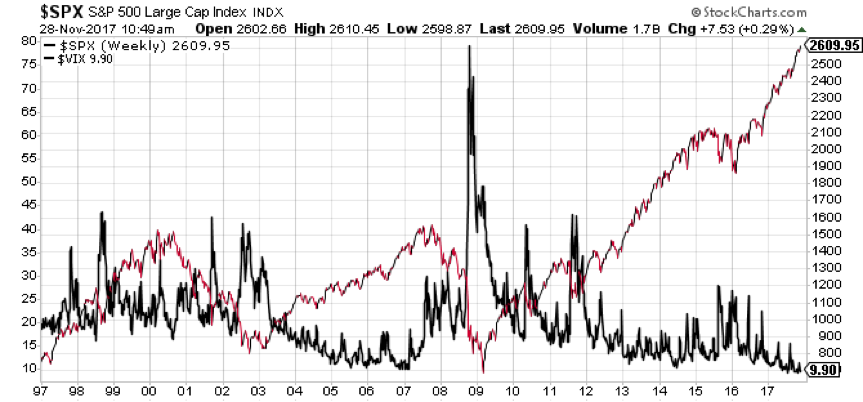 Source: Meritocracy Capital Partners Inc
The VIX was down at a low of 9.89 in January 2007 – stock prices peaked in October that same year.
In July this year, the VIX hit its lowest ever level – dropping under 9 for the first time ever.
Now, maximum complacency is not necessarily bearish. But history tells us it can't last long.
And when things start picking up, you'll want to have your house in order.
The numbers don't lie. The market is complacent right now, and the next spike will see the market begin a sell-off.
So I ask you again: would you be happy buying stocks markets on an indexed basis right now? That looks deeply irresponsible to me.
Are you going to ignore this threat?
British investors are in danger.
If you have a family that depends on you, or you simply can't afford to see your wealth take a substantial hit...
You need to have your money in low-risk investments, to my mind.
That does not mean accepting minimal growth.
It simply means not paying for things which are significantly overvalued.
I.e. not in western stock markets.
I believe my fail-safe Portfolio is your best defence against the threats in the financial system.
As I said, you'll find everything you need to know in the report.
What will this research cost you?
Normally, access to this level of commentary and insight would set you back a lot of money.
But I don't want there to be ANY barrier between you and the kind of insight you need to stay ahead of the coming crisis.
I want to make Real Wealth available to as many people in this country as I can...
With no barrier to them getting all this important information and insight.
I foresee a time - perhaps soon - when thousands of well-intentioned investors are going to need help. Without guidance, they will make a lot of mistakes. They will be defenceless. I believe I can help them - and you.
So, you won't need the R50k or R100k you'd usually need to get elite wealth advice from the best minds in the business.
You won't need the R10,000 I ask for members of some of our exclusive investment advisory services.
I'm opening up the experience, knowledge and the collective wisdom of Real Wealth team for a tiny fraction of that price.
The full price is R1,500 for a year's subscription. Considering the level of investment intelligence you get – that's incredible value.
But that's not what you will pay if you take up a trial today. I believe major investment markets are now so risky… and so many people are likely to get caught out… I want to open this guidance up to as many as possible.
That's why I'm cutting the price by almost half to just R828.
For that modest price you'll receive an exclusive alert every month, shining a light on the market's lurking dangers...
Plus my report – 'The fail-safe Plan'.
You have 30 days to see if it's for you.
In that time, if you don't think our investment intelligence advisory is for you, just let me know. I will refund your subscription fee in full. No problem.
I'd advise you to do so asap – even if you decide my market analysis and guidance isn't worth the money.
At least you'll have taken the necessary action – and come to your own conclusion.
(You can review your trial offer before it's final)
Before I let you get on with the rest of your day, there's one more thing I want to bring to your attention – which I suspect has been a critical agent behind this current bull market...
And which could precipitate the next correction.
CRASH INDICATOR #6
Is this "market maker" finally pulling out?
You might think that the rising stock market means that institutional and private investors are driving up prices.
But that's far from the whole story.
In the last eight years, companies have spent $2.4 trillion buying their OWN stock.
To put that into perspective, the SA's national debt is around R1.8 trillion.
It's a way of engineering the share price to make the demand seem stronger.
But the market can't be rigged for ever.
And right now, the trend is waning – as the chart blow shows.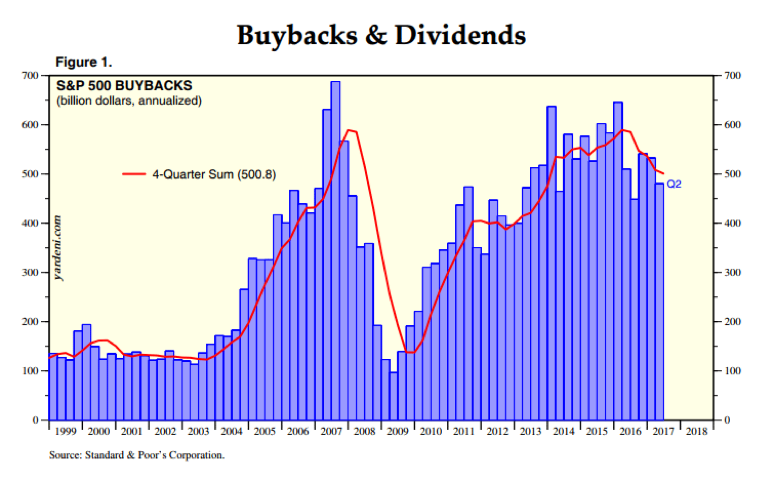 Source: Yardeni
For the 12-month period ending March 2017, stock buybacks were $508.1 billion, down 13.8% from $589.4 billion for the previous 12-month period.
You get the picture: stock buybacks, a huge crutch for stocks during this bull market, are diminishing.
Can the market rely on a resurgence of new buyers to take it further?
That feels like a leap of faith to me – one I'm not prepared to risk.
Stock market investors are playing a risky game right now.
The tragedy is, I suspect most private investors haven't got the faintest idea of what's actually going on...
But YOU do.
So, what are you going to do about it?
The cost of doing nothing
Ask yourself:
Could I face losing a large portion of my money, at this stage of my life?
Could I happily retire, knowing I won't be able to live the way I have always dreamed... knowing I cannot leave my kids with as much as I hoped?
Could I forgive myself if I did nothing to protect my investments and family, even after this serious warning?
Today you have an opportunity to prepare yourself against what's ahead. Don't waste it. It will cost you next to nothing to see what we believe you need to do urgently.
And it will cost you very little to continue to receive my research as things play out. Don't let yourself become one of the thousands of people here in the SA looking back with regret, wondering 'what if I'd listened... what if I'd done something...'
I am offering to show you how to respond right now... I urge you to take me up on it.
Act now, before it's too late to do anything.
Yours faithfully,

Joshua Benton
Investment Director, Real Wealth
(You can review your trial offer before it's final)